How to Clean Dryer Vents and Ducting. Over time, as your dryer is working it's building up lint both inside the lint trap and in the vents that go down and outside your house. As that buildup accumulates those vents get tighter and tighter obstructing the airflow. Lint is extremely flammable so you basically have a giant long tube that runs down inside your house into the outside that is filled with a very flammable substance. All it takes is an excess amount of heat or one good spark and you could have a dryer fire. Clean Dryer Vents and Ducting.
Tools for Dryer Vent Cleaning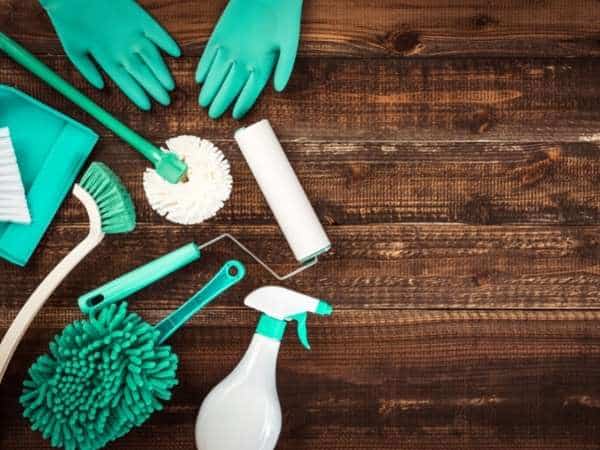 The tools that are used for dryer vent cleaning are:
Power drill
Screwdriver
Dryer ducting brush kit
Vacuum Cleaner
The dryer ducting brush kit can be purchased online for about 20 dollars and it gives you up to 30 feet of length to clean up your ducting. The vacuum cleaner can be a regular vacuum cleaner.
Signs you want dryer vent cleaning services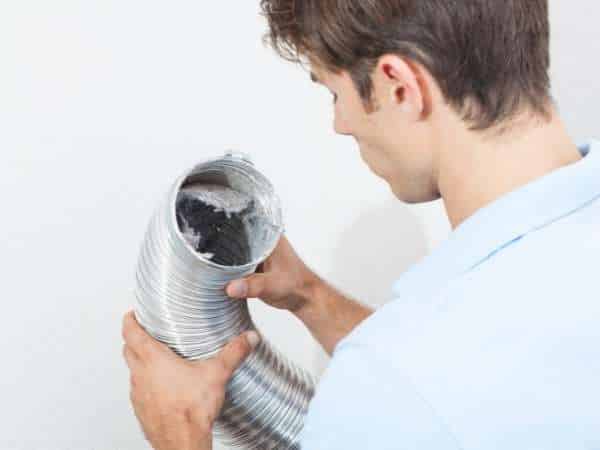 It is essential to look out for potential health dangers by looking for the indicators of a clogged dryer. Here are the warning signs:
When you notice that the drying process is taking longer than usual, particularly if it takes more than one cycle to dry the clothing fully.
Your dryer is drying your clothing more slowly than normal. It may be the main cause of a sudden increase in your power bill.
You might sense that the dryer is becoming too hot to touch while it is running. This might ultimately result in a fire.
Dryer Vent Cleaning Process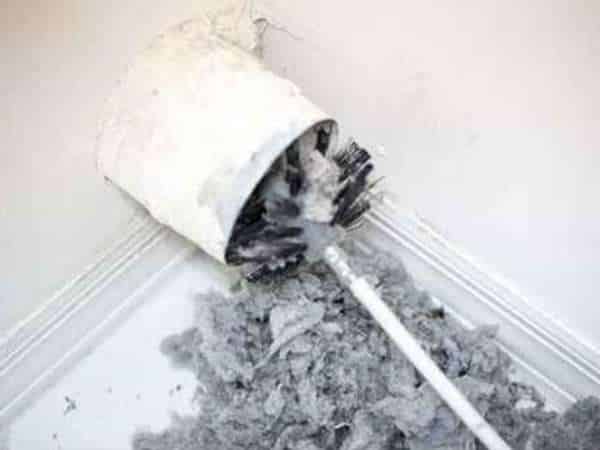 Before starting the process, let's talk about just cleaning the lint trap. Just lift the flap, pull it out and you will see the lint build up right there. That's the stuff you want to clean out every single time you use the dryer. So, just scrape all that away, put it back in, and now the lint trap is clean.
Following that, you can pull the dryer out and take a look at the ducting. Dryer lint is extremely flammable, so much so, that I recommend on many occasions that people use dryer lint to make their emergency fire starters. Clean Dryer Vents and Ducting.
So, the first thing you can do is pull the dryer away from the wall very carefully. Remember, there is a vent tube attached to the back of that. Be very careful about any electrical that you have back here.
With fewer repairs, your dryer will last longer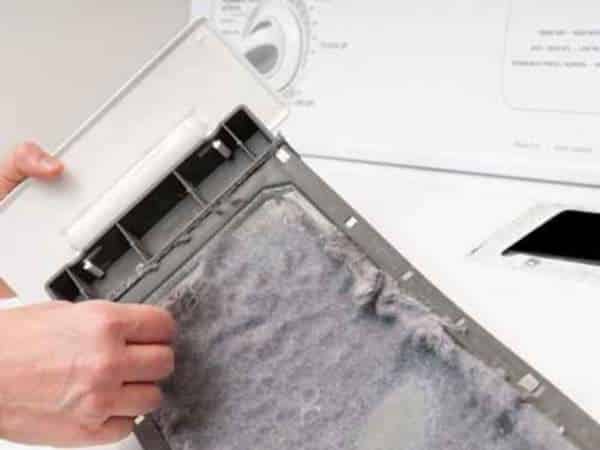 Your dryer is a major appliance that uses a significant amount of energy and will have to be replaced periodically. The more often you have to have your dryer repaired or have to replace it, the more it's costing you. A lot of those issues are caused by a buildup of lint in the ducting and vents that go from the dryer to the outside of your house. If you have a professional come in and clean out your dryer vents and ducting, you are going to have fewer repairs, your dryer will operate more efficiently, and you will save money in the long term.
Benefits of Dryer Vent Cleaning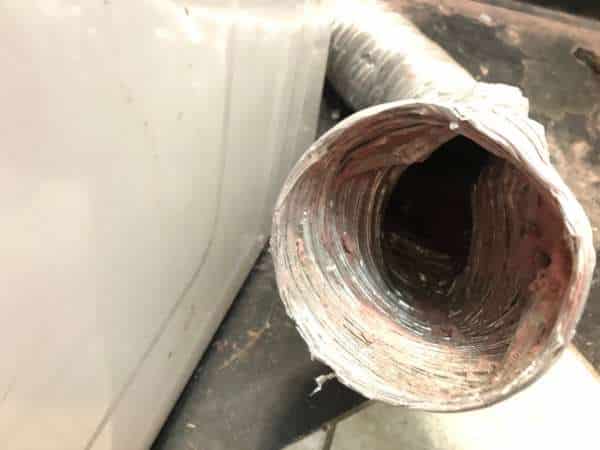 Improve Efficiency – The main reason is that it increases the efficiency of your dryer. Again, because it's able to draw more air through the drum more quickly and more completely. The clothes inside are dried more quickly and completely so they come out with fewer wrinkles and less chance of shrinkage.
Extend the Life of Your Dryer – The second reason is to extend the life of your dryer. By cleaning out the lint from the dryer and from the venting system your dryer will run a lot more efficiently, a lot more quietly, and it's going to be a lot less likely to break down. Again, it's going to be a much more efficient machine if you regularly clean out the lint from the drum and from the venting system.
Prevent House Fires – The third reason is to prevent house fires. If your dryer vent system becomes clogged with lint, then the hotter it gets the more likely it is to ignite.
Cleaner Clothes – The final reason to clean the lint out of your dryer is to get cleaner clothes. Again, it's because the clothes are dried more completely and they're less likely to get lint trapped in them.
1. Your clothing will dry more quickly.
The length of time it takes for your garments to dry will significantly decrease after cleaning your dryer vent. The additional time it takes to dry your clothes has an adverse effect on your system, your clothes, and the longevity of both due to the damp, heated air being trapped inside your dryer drum.
2. With fewer repairs, your dryer will last longer.
Your dryer will last longer if the vents are cleaned. When there is lint or other obstructions lodged within your vent, it produces wear and tears on your appliance. This will limit the life of your dryer prematurely and cause parts to break.
3. Reduce your energy costs
Your electricity bill will increase as your clothing and linens dry more slowly. Your things will take substantially longer to dry if your dryer vents are clogged. The dryer vent will need to work twice as hard if it is blocked, which will reduce performance. Which uses more energy as a result.
4. Reduce the chance of a dryer fire
According to the National Fire Protection Association, dryer-related house fires are a common call for fire departments in the US. Lint buildup is what causes these fires, so failing to clean your dryer vents can rapidly turn dangerous. The likelihood of a dryer fire will be greatly decreased by cleaning your dryer vents on a yearly basis.
How to Choose the Best Dryer Vent Cleaning Service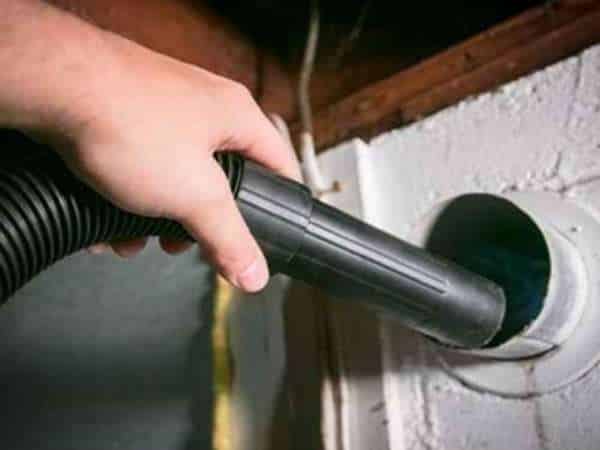 When selecting one of these service providers, reputation should be the first and most crucial factor taken into account. You shouldn't, under any circumstances, ignore your reputation. Selecting a service provider with a good reputation ensures that they will manage your project competently. When you don't know a lot about the service provider personally, this is a relief.
The cost they charge is the second factor to take into account. You should think twice before choosing to work with a specific service provider if you even feel the slightest bit exploited. A price should neither be too high nor too low.
The third thing to think about is the equipment they'll be using. Inquire about the technology they want to use. Investigate the best cleaning products, technologies, and instruments for this type of cleaning on your own, and then discuss your findings with your service provider. You can hunt for another cleaning business if you believe they are too outdated to be hired. By keeping all these points in mind you can choose the best air duct cleaning and dryer vent cleaning service providers near you.
Conclusion
If we could go back in time and tell our grandparents the amazing things that we'd have the ability to do today they'd most likely be in disbelief. It's amazing how many things we take for granted today that they didn't even have access to. We hope that this list of 25 things people in the 1950s would find bizarre will shed some new light on some of the things we do every day and make you appreciate even more the modern age we live in today.