How to Build an Outdoor Kitchen on a Budget. If you've got a backyard and a hankering for some burgers, hot dogs, and corn on the cob, then it might be time to consider building an outdoor kitchen. Outdoor kitchens are trendy right now, but they can be expensive to build. So how can you get one without going over budget or having to do all the work yourself? Here are some ways to build an outdoor kitchen that's worth the cost and effort!
1. What Color Should you Paint it?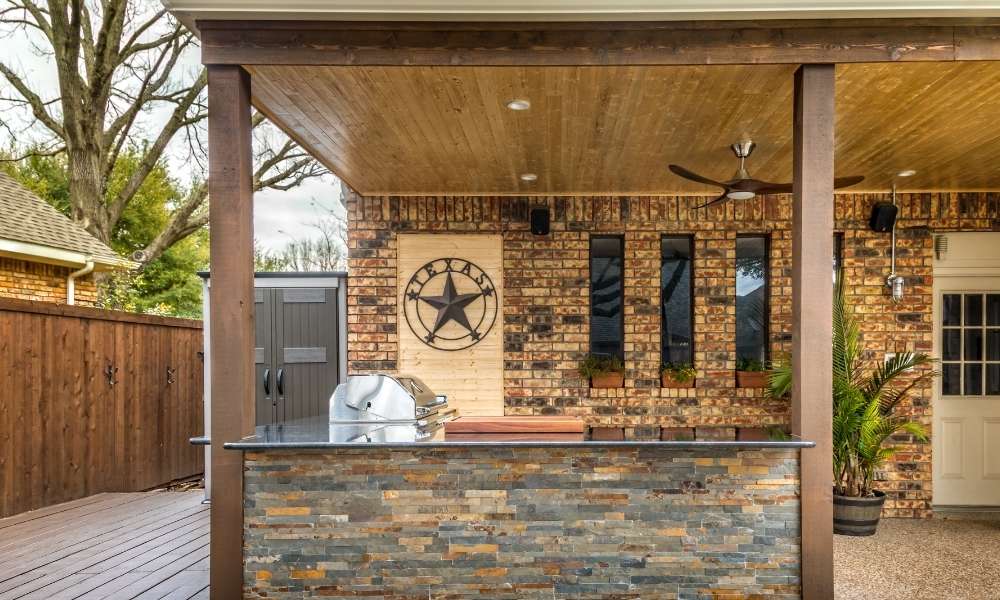 The first thing you'll need to do when building an outdoor kitchen is decide on a color. You can choose from any shade, as long as it's durable and will last a few years. Be sure to choose a dark color if you want your kitchen to be more heat resistant.
2. How to Save on a Budget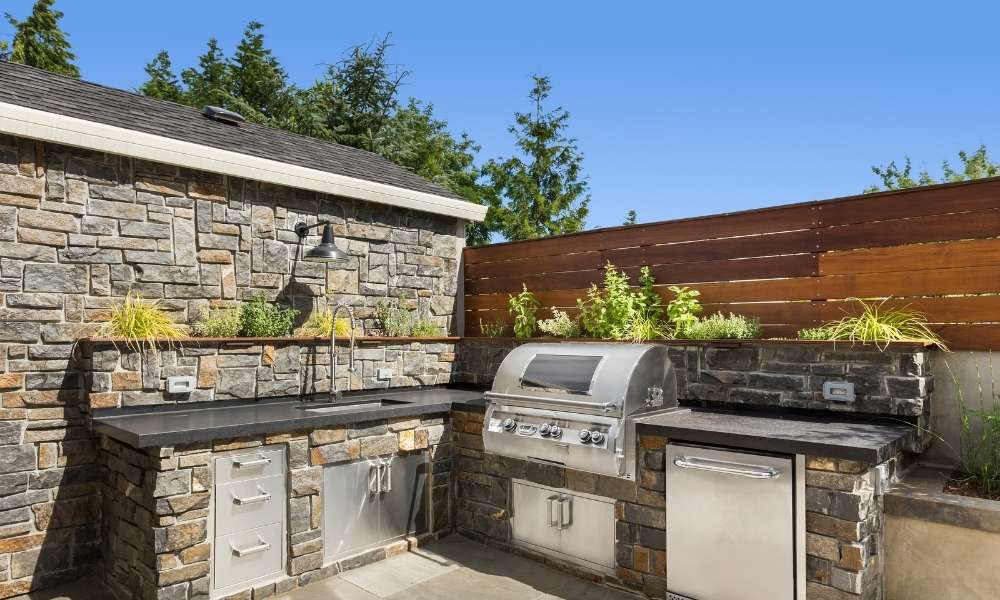 There are a few ways to save on a budget for your outdoor kitchen.
Use salvaged materials: If you have old windows or cabinets lying around, you can use them in the outdoor kitchen. This will reduce the cost of the project and give it a more rustic charm.
Find free or cheap building supplies: You can find free wood by asking people in your community if they're doing any remodeling projects or just want to get rid of some wood they don't need anymore. You can also check with local businesses to see if they offer unused building materials.
Reduce the size of your outdoor kitchen: If you like the idea of an outdoor kitchen but don't have the space, consider reducing the size until you find a place where you can build it without going over budget.
3. How to Design your Outdoor Kitchen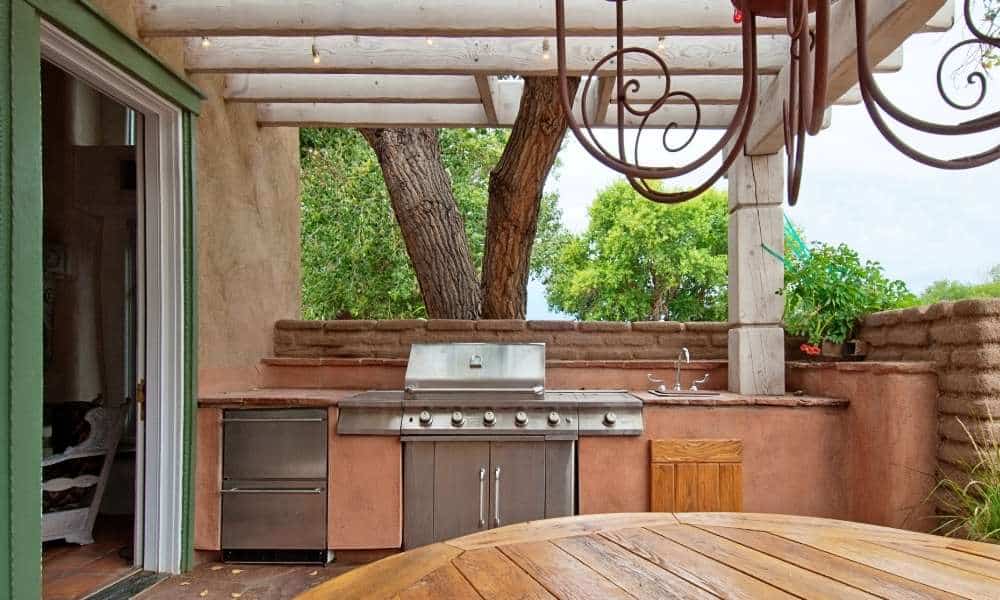 Your outdoor kitchen should be designed to fit your needs and lifestyle. You may not want a large one or one that's always in use. Your outdoor kitchen design needs to suit your needs, but it doesn't need to be something big and grandiose.
Set a budget
The first step is to set a budget for the project. What are you willing to spend? Will you hire a professional? How much of the work will you do yourself? What materials do you need? All of these questions are important to answer before you get started on the design phase of your project.
4. The Best Materials for an Outdoor Kitchen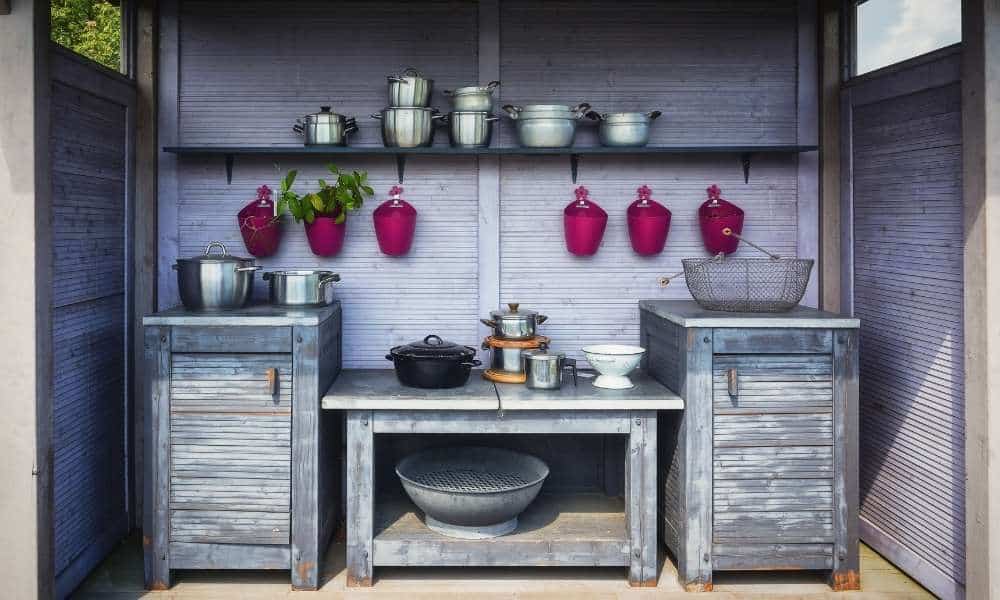 The best materials for an outdoor kitchen are typically either stone or bricks. Stone is the best way to go if you're looking for a natural look. Bricks are a little more affordable, but they might not be as durable. For example, bricks can get damaged if the temperature drops below freezing during the winter months.
What type of material you use will depend on your budget and design preferences. If you're working with a tight budget or have minimal DIY experience, then I suggest using brick/mortar to build your outdoor kitchen as it won't require any special tools. Anything else might require some outside help from professionals.
5. Finishing Touches for your new Outdoor Kitchen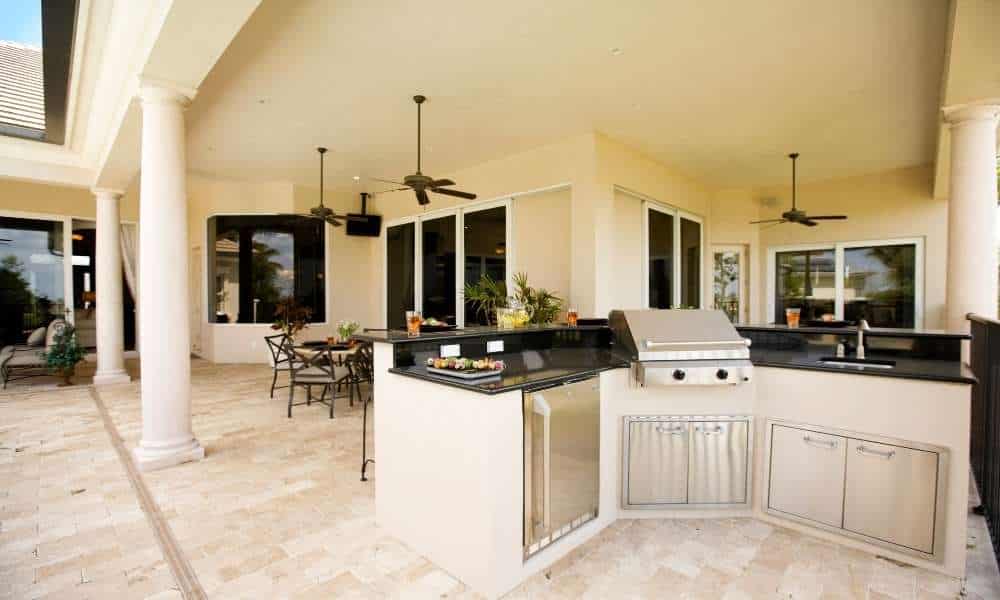 Outdoor kitchens are typically created with the same materials as indoor kitchens. You can choose from a variety of countertops, cabinetry, and appliances when you're designing your kitchen. You may find that your budget is better off going with some second-hand or salvaged materials to save on cost.
The final touches of your outdoor kitchen will have the biggest impact on its look. You can use plenty of outdoor space ideas to add character to your outdoor kitchen. For example, you could create an eating area by adding an old weathered table and benches or installing a fire pit for a cozy cooking space in the wintertime. These finishing touches will make your outdoor kitchen feel like home!
6. The Process of Building a Budget-Friendly Outdoor Kitchen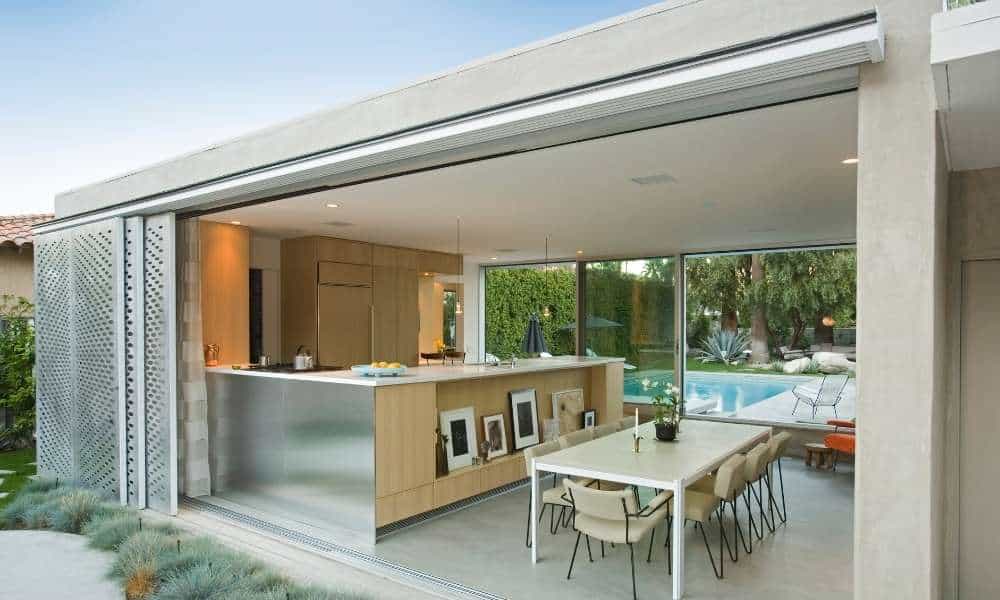 There are a few ways to build an outdoor kitchen on a budget. You can either do some of the work yourself or find a contractor who will work within your price range.
For people who have the time and skills to do some of the work themselves, building an outdoor kitchen is as simple as buying everything from the cabinets to appliances, and following instructions on how to put it all together. This can be an affordable way of getting started because you'll be saving money on labor costs.
If you don't have DIY skills or the time to do it yourself, then it might be worth looking for contractors in your area who will build an outdoor kitchen for less than $5,000. There are plenty of options available if you live outside of a metropolitan area where labor costs may be lower.
7. Plan your Outdoor Kitchen (size, placement, etc.)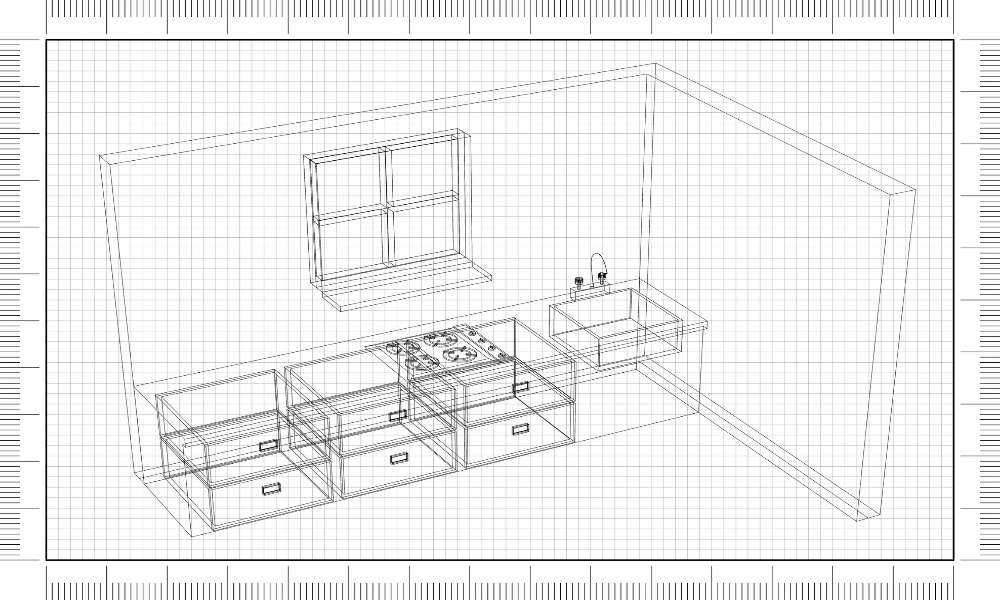 One of the first things you need to figure out when it comes to building an outdoor kitchen is the size. If your backyard is too small, you may have to scale back your plans and consider a smaller cooking area or a different style. You also need to think about where you want it. For example, if your porch has a large open space, then maybe an outdoor kitchen would be best there. On the other hand, if you live in the middle of an apartment complex with no lawn space, then you might want to consider building your kitchen on one of the patios inside your home or purchasing a folding grill for your balcony.
8. Have an idea of the layout of the Kitchen before Building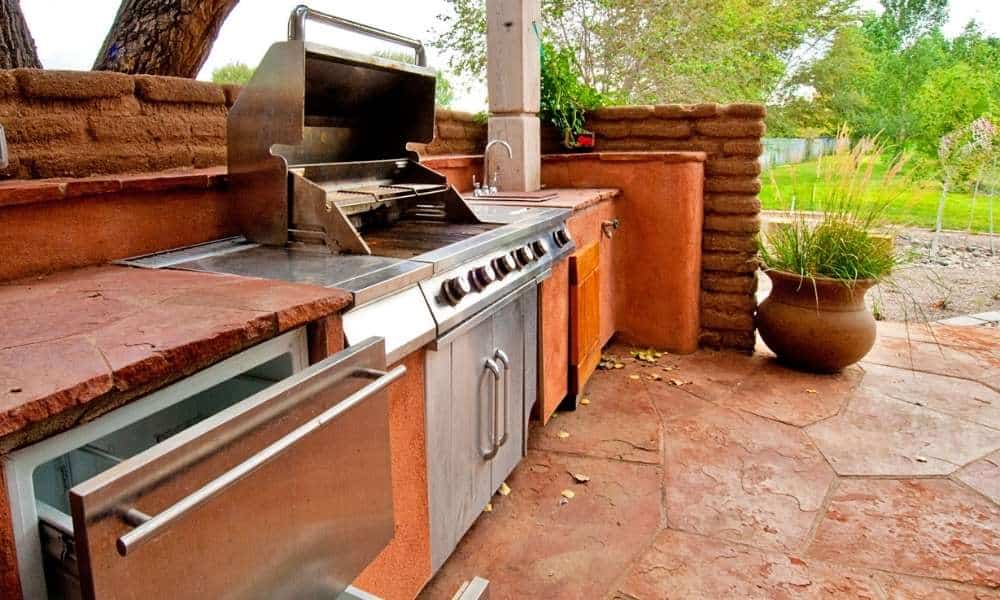 First, you'll need to know the size you want in your kitchen. Do you want it to be a small grill area or do you want it to be a full-on island?
Next, figure out what features you want your outdoor kitchen to have. Do you want there to be a sink? How about a stovetop? What surface material are you going for?
Once this is all figured out, start pricing out things like materials and parts depending on what type of budget and the specs of your kitchen.
Finally, once everything is ready to go, get started building!  You can find tutorials online on how to build an outdoor kitchen by doing research online or asking friends who may have built one before.
9. What Materials will you need?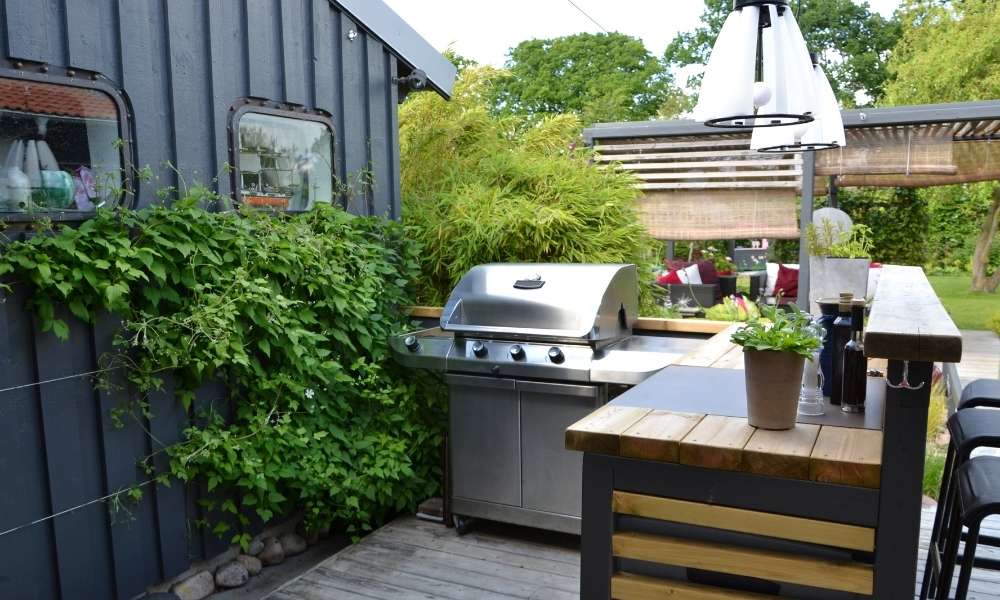 Even if you're on a budget, there are some materials you can't skimp on. For example, you'll need good tools to work with your materials. You'll also need some high-quality materials like a sturdy grill, quality cookware, and reliable outdoor lighting. And don't forget about the furniture! Outdoor kitchens typically have seating for four people and it's important to have plenty of room to move around while cooking or eating.
Conclusion
Building a budget-friendly outdoor kitchen doesn't have to be difficult. Follow these nine steps, and you'll have an outdoor kitchen that's sure to please, no matter your budget.
1. Consider the size and shape of your yard when deciding on the size of your kitchen and the shape of your counter.
2. Choose the best materials for your budget. A good rule of thumb is to spend about a third of the cost of the kitchen on materials.
3. Finish it off with a coat of paint that coordinates with your exterior!